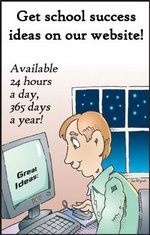 Parent Resources on our School Website
Great ideas to help children do better in school. Available 365 days a week!
Parenting Ideas That Really Work
Now Available on Our School Website!
Nobody said being a parent is easy! But most experts agree there are few things we'll ever do in life that are more important than being a parent.
We're pleased to announce that hundreds of helpful parenting ideas are now available for parents on our school website, 24 hours a day, seven days a week!
You'll find answers to common questions, like: "Should I try to be my child's friend?" "How can I say 'No' without feeling guilty?" "How do I know if I'm putting too much pressure on my child?" "How can I get my children to listen to me?" and "How can I get help when I need it?"
Just click on the "Parenting Tips and School Success Ideas for Parents" button on the right side of the Home Page.